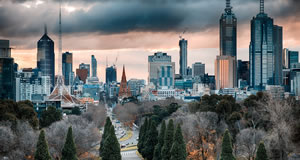 Good Friday Melbourne style is a great place to celebrate this autumn public holiday. Okay so many shops and places may be closed for half the day or even some for the whole day. And some Melbourne attractions may also be closed. But that's no excuse for not getting out and about on this awesome Big Day! After all it is the start of the Easter weekend and you want to kick it into gear the right way. So hop to it.
Melbourne has some fabulous venues and restaurants that will be having themed menus for Easter and Good Friday. And it you are up for the party life then Good Friday Eve has always been a favourite for nightclubs and hotels to have fun events.
During the day time the gorgeous Yarra River and it's venues in Southbank or South Wharf area are divine for al fresco dining and enjoying good times with friends. With many venues and restaurants having outside or rooftop areas it can make for a more enjoyable experience while Melbourne is in Autumn and still enjoying daylight savings. Get out and about and enjoy Good Friday in Melbourne.
And for those with a little bit of energy and wanting some exercise you can even ride one of Melbourne's famous Blue Bikes by hiring them from the many stations dotted around Melbourne and it's parks. Or head down to Port Melbourne or St Kilda for a fab time at the beach and why not some fish and chips!
Melbourne Good Friday Ideas & Things To Do
More Easter Big Days for Melbourne
Yes there are more Big Days at Easter time in Melbourne. Make sure you checkout the activities for Easter in Melbourne.